TxDOT More Efficient With Wireless Overheight Truck Detection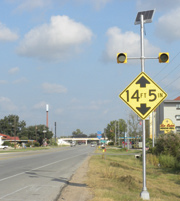 Overheight Truck Detection The Yoakum District TxDOT Office was responsible for maintaining the "ding-a-ling" over height truck warning system in Columbus, TX, on Interstate 10 between San Antonio and Houston. When a truck's trailer hit the 12" yellow & black striped tubing suspended on a cable across the road, the sound alerted the driver that their vehicle was too high for the 14' 5" overpass. In theory, if you hit the tubes, you'll hit the overpass. According to Randy Zimmerman, Traffic Shop Supervisor, the line "was always sagging, so a bucket truck was dispatched monthly to adjust the cable holding the ding-a-lings" to maintain the proper height. This work was in addition to re-hanging the cable if an over height load snagged the cable and tore the system down.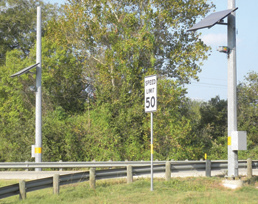 ELTEC specializes in solar powered wireless systems and their integration into warning and caution system, including over height detection. The solution developed for Columbus & TxDOT provides accurate and reliable detection utilizing a red/infrared beam that initiates flashing beacons when broken, alerting the driver that the truck is over the allowed height. The detection device senses direction of travel, activating only for approaching vehicles and not those having exited the interstate and driving away from the overpass. There have been no functional problems or required maintenance since the ELTEC system was installed, saving time and money for TxDOT.
To discuss how to improve your traffic operation's effectiveness and safety, contact ELTEC: 800-227-1734/Sales@ elteccorp.com or peruse www.ELTECCORP.com. Or contact your local ELTEC dealer.