Pedestrian/RRFB/HAWK Crossings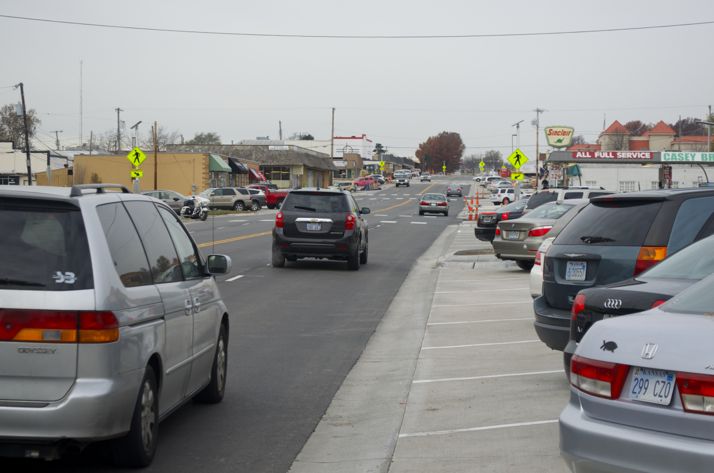 Mission's Johnson Drive opens all four lanes of traffic as long construction project comes to an end.
ELTEC Corp has added safety measures to Mission, KS Johnson Drive. By installing Eltec's  RRFB (Rectangular Rapid Flashing Beacons) crosswalk safety features the four lane highway will notify drivers of potential pedestrians crossing. The RRFB is a rectangular shaped, high intensity signal head, which flashes in a wig-wag, rapid flickering pattern. The alternating signals provide direct, ultra-bright concentration as well as wide-angle intensity. The beacons are pedestrian activated: push button or passive detection (several options available).
It's open again. Johnson Drive through downtown Mission was back to four lanes of traffic this morning and most of the construction cones have disappeared.
With the temperature hovering below 20 degrees this morning, only the marching band was missing from the city's barricade breaking celebration. The speeches were brief and the coffee plentiful as dozens gathered to mark the official end of construction and the opening of all four lanes of Johnson Drive to traffic for the first time since early March. The impact of construction really started in the summer of 2013 when utilities were being replaced under the street, a project that lasted until December. Storm sewers were replaced as part of the road construction this year. Traffic often was blocked on the side streets and even Johnson Drive was closed in places during the construction. Traffic flow was cut to two lanes all summer.
To read more about Mission's Johnson Drive construction project click here.
To learn more about the safety features that we can provide to your town please contact us or fill out a product request form. For almost 50 years ELTEC been a world-class manufacturer of time clocks/time switches used primarily in school zone flashing beacon systems. ELTEC is the preferred traffic industry supplier of warning systems and products for many municipalities, state Departments of Transportation and local contractors.