Lighting & Camera-Solar Powered
ELTEC's Solar Powered Area Lighting Brightens Oregon Nights
ELTEC, in business for over 40 years, is known for programma-ble time clocks (NTC-17E). Over 10 years ago, ELTEC entered into solar powered systems support-ing the traffic industry. As appli-cations for solar power grew so has ELTEC's product offering.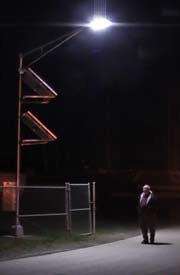 Some solar powered pedestrian crossings required supplemental lighting. One of ELTEC's electrical engineers (PE) with experience in lighting applications worked with a major lighting manufacturer and designed a super bright 24 LED solar-powered fixture.
The Charleston Shipyard in Coos Bay, Oregon has "gone green". For security reasons the shipyard needed a (solar pow-ered) light for the drive through/walk through gate entrances. Aaron Simons, Marine Facilities Manager/Harbor Master asked ODOT (Oregon Department of Transportation) to recommend a company. Aaron discussed the Shipyard's requirements; ELTEC created the system and submitted a solar sizing report ensuring the system's reliability. The area light-ing runs from dusk to dawn.
The super bright 24 LED light fixture operates at the same frequency as the human eye. The result: 'real life', true color clarity. A car's color appears as it truly is; license plates are more easily read. The long life, low amperage light fixture is rated for 80,000 hours.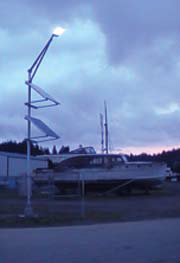 All ELTEC solar powered systems are backed by a sizing report. Systems are never over sized (more expensive) or under sized, so systems won't go dark. Coos Bay is located on the Oregon coast, which is challenging due to the number of cloudy, rainy days as well as its northern geographical location.
When asked what he liked best about the project, Aaron says it was "ELTEC's service". He was extremely impressed with ELTEC's customer support and the reliable, maintenance free area lighting system.
For more information contact ELTEC at 800-227-1734 or Sales@elteccorp.com. Visit ELTEC's web site at: www.ELTECCORP.com or contact your local ELTEC dealer.